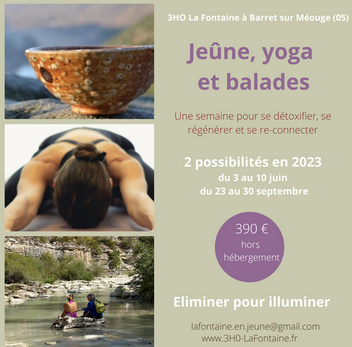 7-day course around water fasting, yoga, walks at La Fontaine.
A week to take care of yourself, away from the daily hustle and bustle, take care of your intestines by putting them to rest, take a mental break and you energetically replenish yourself. Fasting is recognized for these virtues on different bodies.
The fact of associating it with kundalini yoga and walks will allow you to conserve your muscle mass and be able to eliminate more toxins, but also and above all to have a holistic experience: on the physical, mental / emotional and spiritual levels.
The proposed rhythm is adapted to your needs. At any time, you can adjust the activities according to your feelings. Do not worry, from the 3rd day, your body will draw on a source of energy, your lipids which are a super fuel. You will be bursting with energy!
The food descent (begins 21 days before the start of the course) is important to prepare your body for fasting and to reduce possible elimination crises. A detailed program will be given to you upon registration.
The June week starts on Saturday, June 3, 2023 at 5pm and ends on Saturday, June 10 at 2pm after the first common meal.
The September week starts on Saturday September 23, 2023 at 5pm and ends on Saturday September 30 at 2pm after the first common meal.
The workshop includes :
7 yoga classes (Kundalini Yoga, Yin Yoga, Gong relaxation)
Aquarian sadhana every morning
daily walks
fasting support, formal and informal exchanges around health, vitality and fasting
a discovery workshop of Karam Kriya
a Gong relaxation night
video nights
personal moments of relaxation
You will be guided and supported by 2 qualified and experienced guides, Siri Kar Singh and Munpreet Kaur
Early Birds rates until April 7th 2023 for the week of June
Early Birds rates until August 23, 2023 for the week of September
Online ticketing for June :
Online ticketing for September : https://www.helloasso.com/associations/3ho-la-fontaine/adhesions/jeune-yoga-et-balades-du-23-au-30-septembre-2023
Possibility to pay in 3 times
Contact : lafontaine.en.jeune@gmail.com