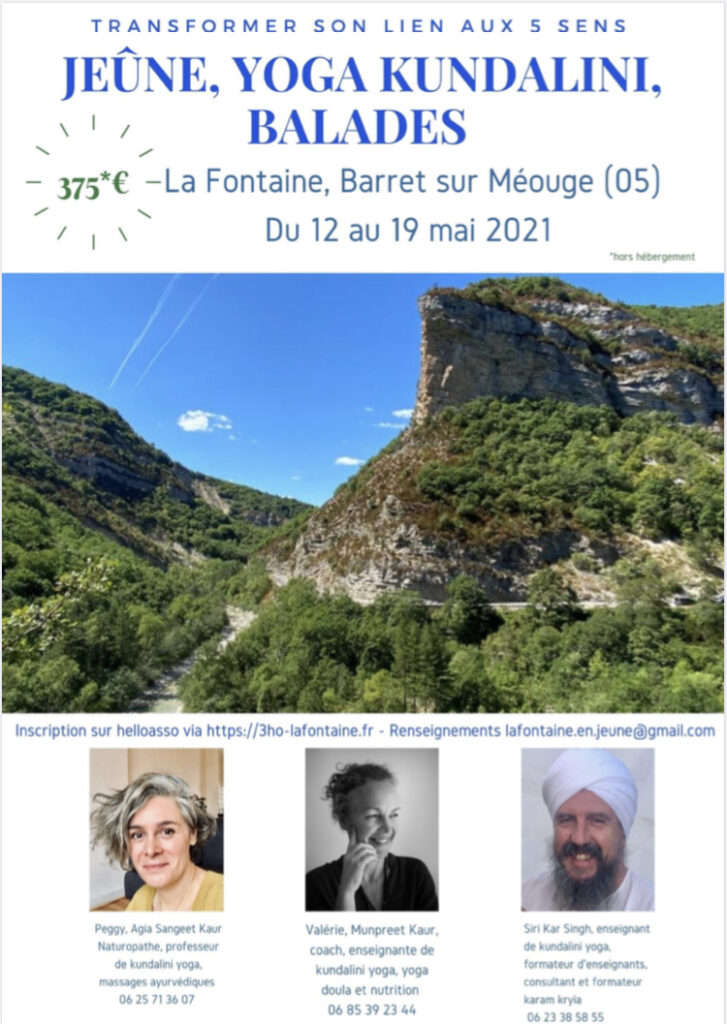 7-day course around water fasting, yoga, walks at La Fontaine.
A week to take care of yourself, away from the daily hustle and bustle, take care of your intestines by putting them to rest, take a mental break and you energetically replenish yourself. Fasting is recognized for these virtues on different bodies.
The fact of associating it with kundalini yoga and walks will allow you to conserve your muscle mass and be able to eliminate more toxins, but also and above all to have a holistic experience: on the physical, mental / emotional and spiritual levels.
The proposed rhythm is adapted to your needs. At any time, you can adjust the activities according to your feelings. Do not worry, from the 3rd day, your body will draw on a source of energy, your lipids which are a super fuel. You will be bursting with energy!
The food descent (between 7 and 14 days before the start of the course) is important to prepare your body for fasting and to reduce possible elimination crises. A detailed program will be given to you upon registration.
The workshop begins Wednesday May 12, 2021 at 5 p.m. and ends Wednesday May 19 at 2 p.m. after the common meal of food recovery.
The workshop includes :
7 yoga classes (Kundalini Yoga, Gong)
Aquarian sadhana every morning
daily walks
fasting support, formal and informal exchanges around health, vitality and fasting
a discovery workshop of Karam Kriya
a Gong relaxation night
video nights
a workshop for food recovery
preparation of the next day's meal
personal moments of relaxation-l'animation de 7 cours de yoga (Kundalini Yoga, Gong)
Vous serez entouré et soutenue par 3 accompagnateurs qualifiés, diplômés et expérimentés:
You will be guided and supported by 3 qualified and experienced guides, Agia Sangeet Kaur, Siri Kar Singh and Munpreet Kaur who are naturopaths, Kundalini Yoga teacher / trainer and Karam Kryia
Price for fasting : until 16 April 2021 = 375€. After 16 Avril 2021 = 425€
Price for mono-diet : Until 16 April 2021 = 455€. After 16 April 2021 = 515€
Accommodation rates 7 nights = nights from May 12 to 18 2021
in a shared caravan = 112 €
in Glamping dorm tent = 98 €
with your tent or your camper van = 70 €
Online ticketing : https://www.helloasso.com/associations/3ho-la-fontaine/evenements/jeune-kundalini-yoga-ballades
Contact : lafontaine.en.jeune@gmail.com