A women's journey through the five elements earth, water, fire, air and ether in alignment with Kundalini Yoga and Karam Kriya (sacred numerology) in the beautiful nature of the Hautes Alpes de Provence.
In this workshop, we will explore and experience the qualities of the 5 elements earth, water, fire, air and ether in theory and practise.
We are going to do sadhana ( morning practise in the tradition of Kundalini Yoga) every morning, and an afternoon yoga class with meditation related to the respective subject and element. The other activities will also be connected to each element and the synthesis of all of them within ourselves.
Guided by the teachings of Kundalini Yoga and the applied numerology of Karam Kriya, related to nature, in a mindset of sisterhood, facilitated with kindness by the two hosts Avtar Kaur and Vadha Raam Kaur (Elvira Grossmann).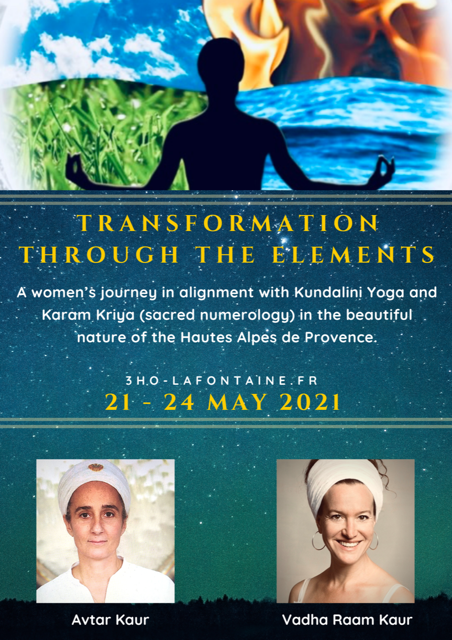 Avtar Kaur is an internationally known teacher and teacher trainer for Karam Kriya and Kundalini Yoga. Her natural and simple way of sharing the teachings makes her workshops a transformative and elevating meeting. She is the co-founder of the programme "Divine Woman" which offers a broad number of topics that are related to women in their differents phases and states of life.
Vadha Raam Kaur has been teaching Kundalini Yoga for almost ten years in Germany, Portugal and France. After running a yoga center in Marseille with her partner, she is now in the management team of the KY retreat center and Ashram La Fontaine. She is currently training to be a Karam Kriya consultant. She is passionate about teaching, healthy food, running and exploring the beautiful area around La Fontaine.
Arrival: 20 May in the afternoon. Departure: 24 May after breakfast (lunch optional)
Rates including full board: local and seasonal vegetarian food – all organic.
Own tent or camping car : 267€
Glamping tent (8 beds maximum) : 286€
Caravan (1 or 2 beds per caravan) : 294€
Please note that La Fontaine provides matresses in the Glamping tents and caravans, but no bed sheets, duvets and pillows.
If you have questions, please contact us by e-mail: satnaam@3ho-lafontaine.fr