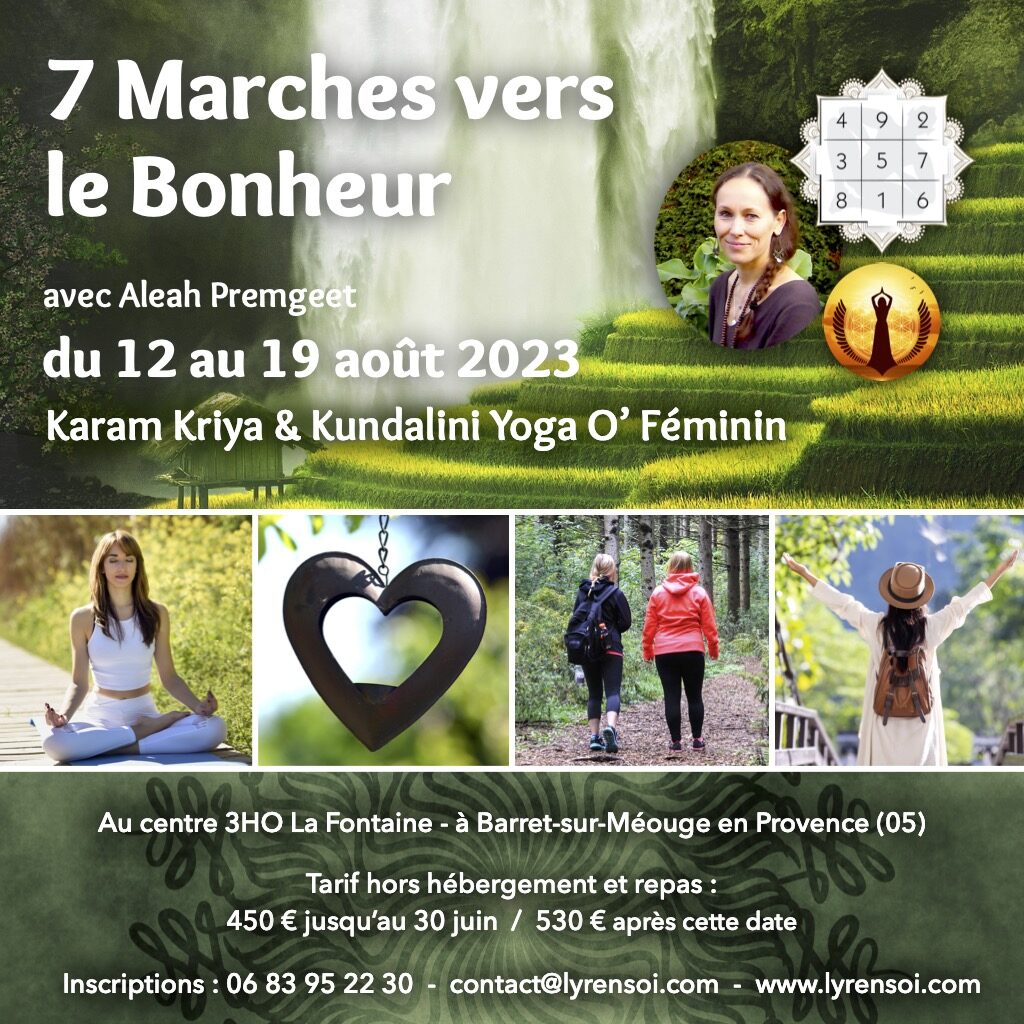 From August 12 to August 19
Karam Kriya & Kundalini Yoga for Women – 2023
True happiness is built and cultivated from within
You want to find the key to happiness? I invite you to explore the 7 universal steps to develop your ability to create your own happiness… from within. Learn to recognize the unconscious mechanisms of the ego-mind that are detrimental to your well-being and the chain reaction that occurs in your daily life according to the principles of the natural law of cause and effect. Through this awareness and a specific yoga and meditation practice, strengthen your personal power and cultivate the right attitude to rise above the traps that limit the expansion of the Self, in order to initiate your ascent to the highest degree of personal realization.
This 8-day course is based on the teachings of Karam Kriya and the language of numbers according to Shiv Charan Singh, applied to Kundalini Yoga according to Yogi Bhajan. It is articulated around theoretical approaches, exchanges, individual and group exercises, as well as yoga and meditation practices to accompany each step of your journey in this intimate reconnection with your being. Immersion in nature, organic, vegetarian/vegan food, hiking, talking circles, creative expression and personal relaxation will also be part of the program to make this stay a time of deep and healthy renewal.
Information and fees
8-day course with full board
Location: 3HO Yoga Center La Fontaine – L'Ubac, 05300 Barret-sur-Méouge / Non-smoking, non-alcoholic and non-intoxicating place.
Dates : from Sat. 12 August 2023 at 11am to Sat. 19 August at 5pm / arrival on the 11th and departure on the 19th or 20th..
Rate for lessons : 450 € until May 31 / 5

Accommodation rate: 12, 16 or 18 € / night according to the chosen formula – more info here
Meal rates: breakfast 6 €, lunch 16 €, dinner 16 €.
Payment: 180 € deposit (or the totality) at the time of registration, by bank transfer, Paypal or check (contact information on request); remaining on site.
Accommodation and meals: to be booked and paid directly to the Centre La Fontaine, via the link on this page (soon online).